3rd place winner of Turn Language into Action: A NLP Hackathon for Good, 2022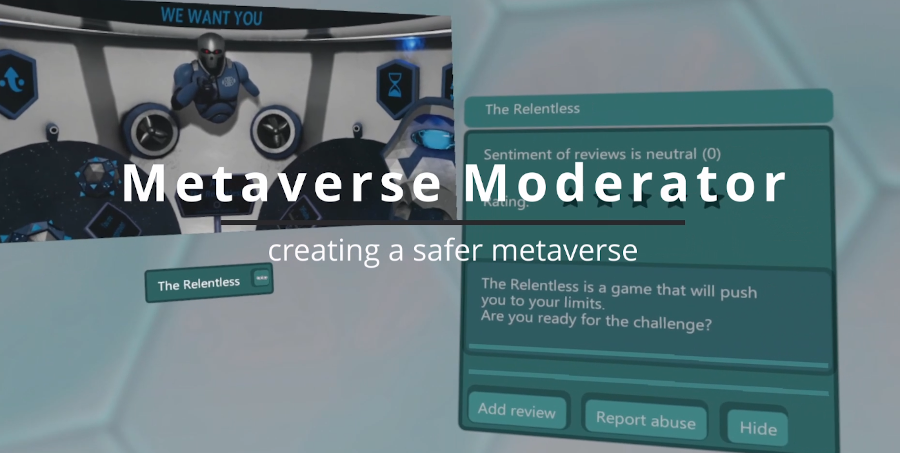 My Metaverse Moderator won 3rd place in, Turn Language into Action: A Natural Language Hackathon for Good.
The metaverse will encourage creativity and sharing of experiences on a vast scale. MeMo uses AI for objective classification / review scoring and efficient moderation, creating a safer metaverse.
This is an Open Source project on GitHub (MeMo - Metaverse Moderator). I plan to continue expanding the project and finish integrating it into Idea Engine to help moderate the shared content that my users upload.
Winner of the Mixed Reality Dev Days 2022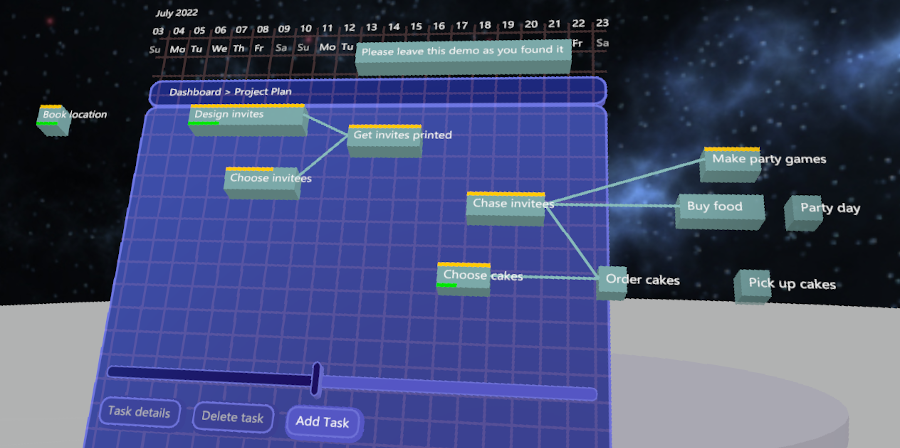 My application, MasterPlan XR, won first place in Microsoft's hackathon: Mixed Reality Dev Days 2022.
MasterPlan XR is a multi-user project room where you can upload images, collaborate on project plans and have meetings or presentations.
The project planning tool is the core component. You can easily add tasks, drag and drop them around the plan and assign resources and completion states. An interesting idea here was to allow the tasks and headings to extend off the page and fade into the distance, making better use of the available space in VR.
You can also cast your dashboard onto a central stage area where it can be viewed by the rest of the team. Everyone has a laser pointer so you can highlight areas of interest during your meetings.
I'd love to take the ideas here further, once Idea Engine has been released.
Winner of the Mixed Reality Challenge: StereoKit 2021

My application, Idea Engine won the grand prize in the Mixed Reality Challenge hackathon.

Entrants were tasked with creating an application, built using the excellent StereoKit tool. StereoKit provides a way to quickly create OpenXR applications that have a focus on user interfaces.
Idea Engine is an interactive mind map where you can bring your ideas to life, with specialised features for training and creating your own retro adventure games or interactive stories. You can load custom models, images and sounds and save and share your creations.
I am continuing to work on this project and plan to make it available on numerous platforms in Q1 2023 as an early access release.
Huawei excellent partner award at HDC 2021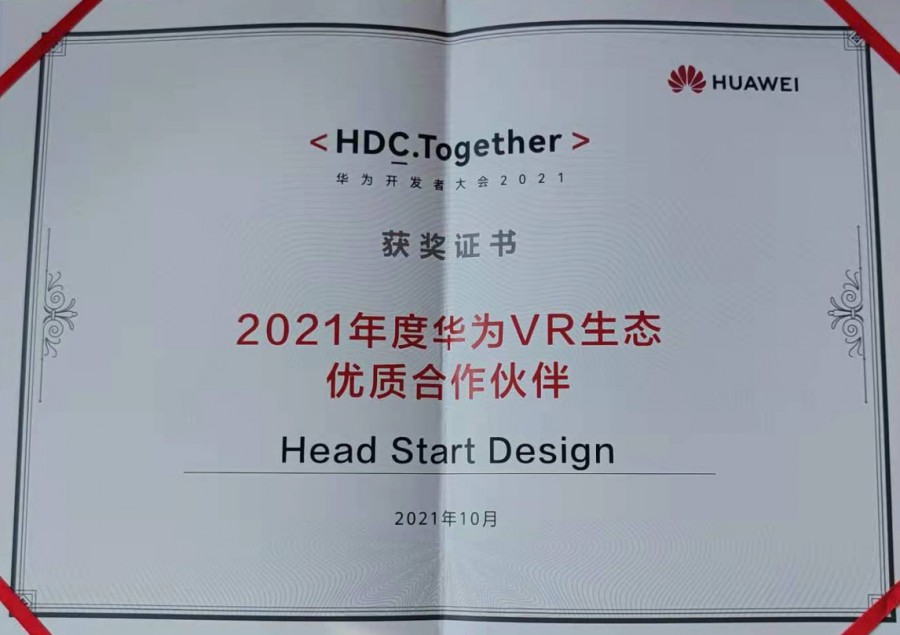 I was delighted to be presented with this award after working with Huawei to bring my Jigsaw 360 VR game to the Huawei VR Glass.
Winner of the Accessibility VR/AR Game Jam 2020

My game Intrepid Intents won the 48 hour Accessibility VR/AR Game Jam in 2020.
My aim was to make a fun and accessible game that could be played by a broad range of people whilst also providing the typical VR experiences and interactions that people enjoy.
I'm now working on taking the prototype further with additional accessibility options.
Winner of the Amazon Sumerian AR/VR challenge 2019

My first webVR project (The Horse Arc) won the prize for the Best Brand Engagement and Retail category in the Amazon Sumerian AR/VR challenge.
The project was created using Amazon Sumerian and helps users effectively evaluate the Horse Arc product at actual scale in VR. It also explores how we can bring VR experiences to the desktop browser to further the reach of the project and how customers can make contact with providers using their voice while inside VR.
Winner of the WEARVR Remastered competition 2018

My game Breath Tech was one of the 3 winners on the WEARVR Remastered competition.
My breath tech demo started life in the days of the Oculus DK2 and was released on Oculus Share and WEARVR. A very rough demo, it showed how a microphone could be used to project your breath into VR. Not only could you see your breath, but you could also use it to interact with objects.
The remastered version was greatly improved in every way and developed into a mini-game where you could see how the technology could be implemented in VR experiences to increase immersion and as a game mechanic.
Breath detection has numerous benefits. Read more in my article Why We Want To Breath In VR
Winner of VRTGO VR Competition 2015

An early prototype of my game Dimensional won the VRTGO VR competition in 2015. The win was instrumental in helping me to complete the game.
Dimensional also had a successful Kickstarter campaign and was highlight by Kickstarter as a "project we love".