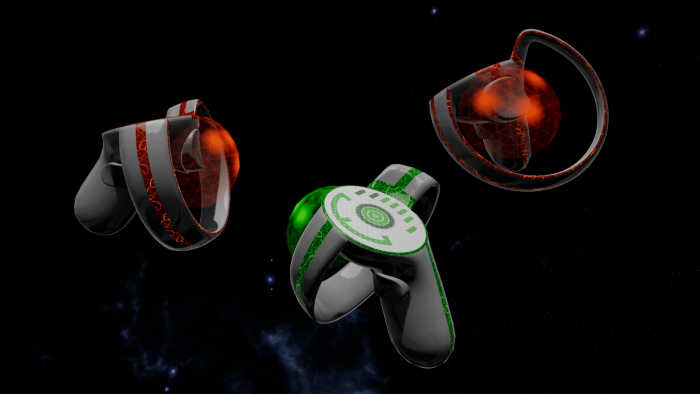 My current project is a high-intensity points-based game that requires reflexes, accuracy and agility. Expect to be physically challenged. A timed-mode will allow you to climb the leaderboard, while an endless mode can be used for fitness training.
The image above shows Oculus Touch controllers that have been given a sporty upgrade to better reflect the feel of the game.
Status
Developer: Brett Jackson (Jumbli)

Release Due: 2017
Platform: Windows 64bit
VR Devices: HTC Vive, Oculus Rift
Input: Tracked Controllers
Alpha testing starting soon
Some of my aims
The game will adapt to the player's available space.
Produce ideal interactive UI for VR.
Achievements and leaderboards will encourage replays.
Experiment with contextual beats and sounds that fit the moment.
Improve my skills with art, graphics and audio.
Subscribe or follow @JumbliVR on Twitter for regular updates