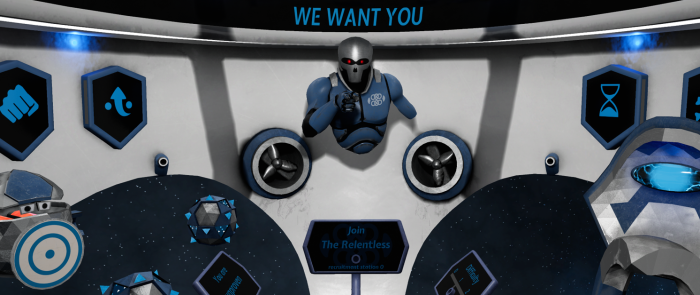 The room-scale action arcade challenge
Developer: Brett Jackson (Jumbli)
Release Date: 24 Oct 2017
Platform: Windows 64bit
VR Devices: HTC Vive, Oculus Rift
Input: Tracked Controllers
Price: 6.99 USD
Steam: The Relentless
Oculus Home: The Relentless
This game is all about movement. It requires 360 degree tracking and at least 1.5m x 1.5m. Expect to use all of your available space as you shoot, punch, dodge, jump and stretch for laser recharges.
Features
Adaptive - the game changes to suit your area and height
Spacial audio - an essential feature that allows you to detect the direction of incoming threats.
Variable difficulty - the difficulty automatically increases the better you perform
Challenges - 3 modes, leaderboards and 36 achievements to unlock
Mixed reality mode - Currently only on Oculus Rift.
Concept summary
WE WANT YOU. Visit your local recruitment station for the opportunity to join the elite inter-galactic guards known as The Relentless. Prove your reflexes, agility, accuracy and stamina in a test where you decide how hard you're willing to push yourself. Climb the leaderboards, unlock all the achievements, be relentless and join the best.
History
This is the second game I have created as a solo-developer and like my first, Dimensional, it tries to tackle some of the issues facing VR.
Movement is a key theme in my games because I know that it increases immersion. Games like Robo Recal and Echo Area show how much fun action can be in VR but also demonstrate how easy it is to start hitting walls and objects. This game was designed from the beginning with this problem in mind.
I will be writing an article in the coming weeks about the features I have added to try and get players to enjoy moving quickly and punching, but with added safety measures. VR will always be prone to accidents, but I hope my features prove to be beneficial - time will tell.
Images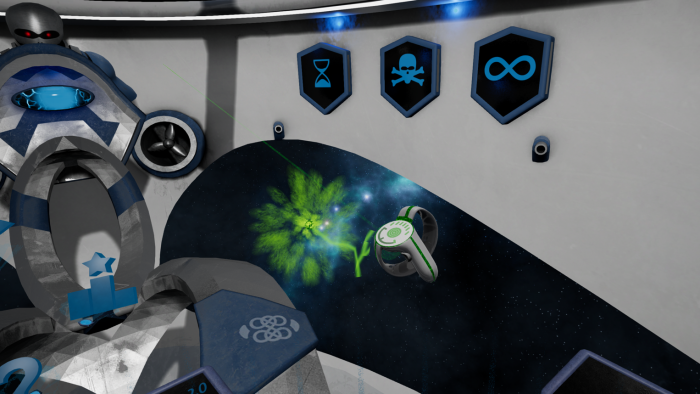 Logos and art for creatives